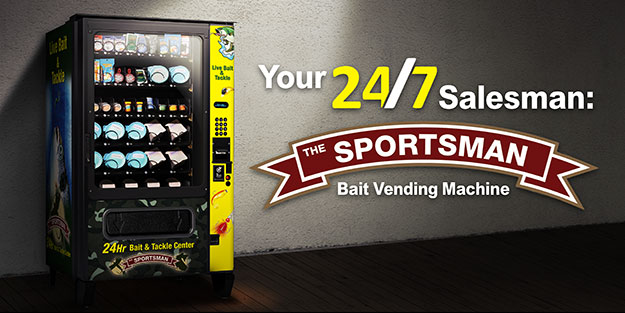 New for the summer of 2013 our Sportsman is now ADA compliant. Along with making the Sportsman ADA compliant we added some nice new features like a new high security lock cover and a new 1/2 inch thick high security lexan outer window. We also added a new electronic coin return.  With these great new features added to all the great features that are already in our Sportsman we have made  the best bait & tackle machine on the market today just a little bit better. The Sportsman has the highest energy efficiency in the industry using only 5.7 Kwh/day. A new rigid delivery box accommodates taller products and includes a removable bottom for easy cleaning. The Sportsman premium vendors high security outdoor package with impact resistant polycarbonate window cover, rain guards; interlocking door-in-cabinet design and anti-pry covers provide superior protection from the elements, vandals and thieves. We also have included in the price, which are options on our other vendors these being;  a factory installed BRW Control System VE-103DA IISAS Alarm System. Another is a factory installed credit card reader, which our customers are telling us that credit card sales are about 30 % of their total sales.  For our northern tier states we have added a factory installed heater kit. All at the base price.  We have the Sportsman in stock and ready for shipping.

The Sportsman has adjustable bait & tackle selections, configurable to almost any package size with no need for tools. L.E.D lighting and heated glass both standard with every machine.The refrigeration system can easily be removed being a self contained unit.
Built in the USA keeping America working!
We offer free 24/7 tech support for the life of the vendor.

Simple yet full featured interfaces
•
Programmable LED display
•
Standard peripheral opening for additional payment or POS systems
•
Back lighted keypad with Braille identification
•
MDB support for all industry standard devices including cash, coin, debit and credit systems
•
DEX data output support
•
Full featured controller with sales and accounting:

| | |
| --- | --- |
| * | Price setting by selection, row or machine |
| * | Free vend and Combo vend modes |
| * | Flexible space to selection setting |
| * | Time of day discounting |
| * | Time of day shutdown modes for energy savings and secured vend times |
| * | Programmable point of sale messages |
| * | Programmable coupon and token values |
| * | Talker device support for sight impaired |
| * | Coin and bill rejection rate counts |
Performance Proven Operating Environment
•High: 100°F (38°C) @ 90% RH
Highest energy efficiency in the industry using only 5.7 Kwh/day
•
Uses only 5.7 Kwh/day @ 75°F (24°C), 45% RH
•
Low-E Glass
•
LED lighting
•
Insulation of critical food areas without need for entire cabinet refrigeration
Simply put if you want the best in a Live Bait & Tackle Vendor then the Sportsman is the machine for you.Please give us a call and one of our Sales Reps will be more than happy to answer your questions.
We can assist in providing finance options for The Sportsman, call today! Start giving the fisherman the products they want when they need it.