Our new ADA compliant Frozen Bait Box introduced in July 2015. It's built to the same perfection as Sportsman freshwater model.  It has already become a big hit in the saltwater fishing market. We manufacturer it as a all frozen machine  or as a multi zone version that features next generation air flow architecture allowing it to dispense refrigerated live bait and frozen baits from the same machine using a common delivery fall space.  This fine machine can be ordered  either way. For reduced energy consumption this model runs on 220 power.
Features:
Guaranteed delivery sensor system ensures customer receives their product or their money back
security alarm installed at no charge a value of $75.00
Credit card reader included at no charge a $300.00 value
Energy efficient LED lighting displays products
Fully reconfigurable trays and selections- changes quickly when your products change
Back lighted, Braille identified keys
Motor pairing capable for wide products
Flexible space to selection setting
Price setting by selection, row or machine
Programmable by point of sale messages
Machine bolt down kit offered at no charge a $35.00 value
SPECIFICATIONS
Selections – Configurable up to 24 selections
Capacity – Configurable up to 480 items
Selection Pricing – Individual from $0 to $655.95
Payment Systems – Cash/Credit/Debit Systems
Communication Protocol – MDB/DEX
Dimensions – H 72″ , W 29 1/2″, D 38″
Shipping Weight – 756 lbs
Resists Elements Vandals & Thieves
Independent internal alarm system
High security lock cover and lock
Interlocking door in cabinet design
Anti – pry covers
Rain guards
Machine bolt down kit
6 Amps (230 VAC/60Hz, 6 Amps)1 HP, R404a, TXV, with Electric Defrost.
Refrigeration R134a Closed System
Machine operates on 220 volt power 
---
Please call us for price. 484-885-4602
Frozen Bait Box All & Multi-zone Flyer CLICK HERE
https://www.facebook.com/AtlanticCityPrimeTime/videos/1773742852891142/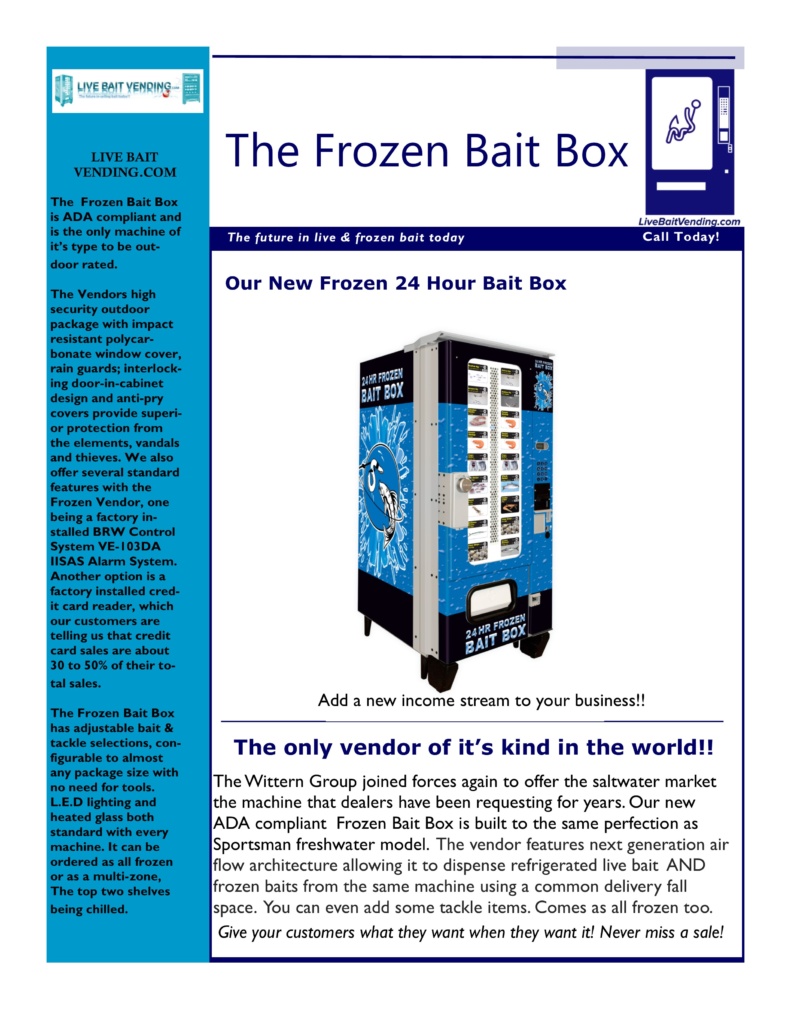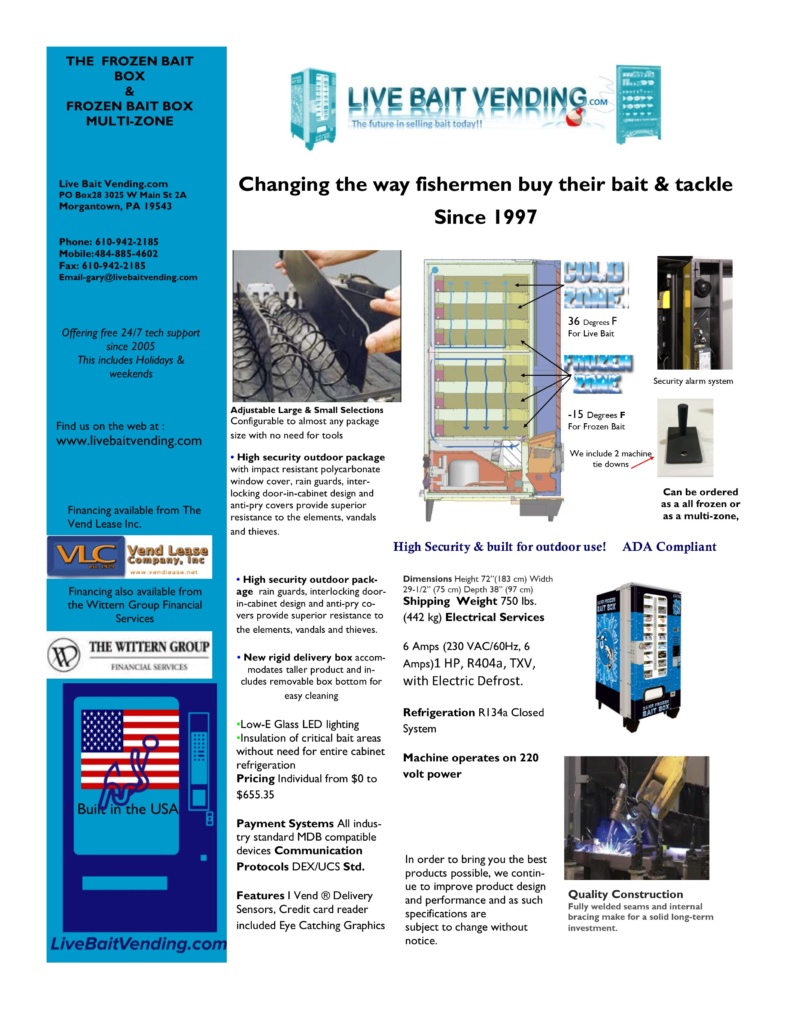 Follow Us