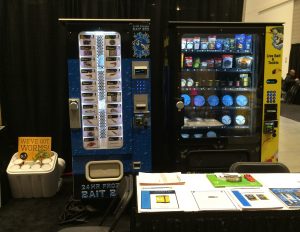 Welcome to our Website
Big News!! We are excited to announce our newest entry to the bait vending market, the all new " Frozen Bait Box". This vendor has taken 4 years of engineering to become the only machine of its kind to have a outdoor rating. Introduced at last year's Big Rocks East Dealer Show. This vendor will revolutionize the way bait is sold to the fishermen around the world. Please go to the machine page and click each machines page for more info.
We are the country's leading supplier of Live Bait and Tackle vending machines. In this website you will find information on the products and services PA Live Bait Vending offers relating to the successful operation of a 24 hr Live Bait and Tackle vending business. Whether you are operating a route of machines or would like to place a machine at your current location, we have what you need. Our vendors are built here in the USA supporting American jobs.
If you have any questions, would like to get pricing or if you are interested in starting your own Bait & Tackle Vending Business, we would love to hear from you. Please take time to check out our web pages. Stop back often, as we continue to update our site with new information & products. Live Bait Vending Machines are a great sales tool. Start offering your customers Bait & Tackle 24 hours a day. Please give us a call, we will be more than happy to speak with you about our line of 24 Hour Bait Shops and discuss which machine will be the the best fit to your business.

Big Rock Sports  Acquires  PA Live Bait Vending  on July 8th 2011

NEWPORT, NC – Big Rock Sports and PA Live Bait Vending, Based in Elverson PA, have entered into an exclusive agreement for Big Rock to purchase PA Live Bait Vending.
Pa Live Bait Vending is committed to the betterment of the Live Bait & Tackle Vending Industry, presenting the business man an opportunity to give the fisherman the products they need 24 hours a day, 7 days a week. They are dedicated to customer service and satisfaction and partnering with Big Rock Sports will provide the resources and capital necessary to bring new products and innovations to customers.
Gary Harsel will continue to work with the company and Big Rock Sports and will help insure the transition of ownership is seamless and that there is no interruption in the supply chain.
Big Rock Sports  The premier firearms, ammunition, fishing, marine and camping distributor in North America, Big Rock Sports is focused on supplying local retailers with the tools needed to navigate the complexity of today's marketplace. The company is also strongly committed to protecting the rights of hunters, anglers and all outdoor enthusiasts.
PA Live Bait Vending operates out of Elverson PA, and has been supplying and supporting 24hr bait vending machines since 1997.
Our Mission Statement
We strive to give our customers as many choices as possible in the Bait Vending Business. Giving each customer the ability to make a well educated decision based on which products will suite their business needs the best. As technology advances, we promise to keep in step with those advances so we may offer the best possible products available.
PA Live Bait Vending appeared on the History Channels Modern Marvels 11/12/2010

 https://twitter.com/PaVending

Big Rock Sports® is not responsible for typographical, photographic or descriptive errors.
© 2014 Big Rock Sports, LLC | Big Rock Sports® and the Big Rock Sports® logo are trademarks. All rights reserved.