Scott Sprole, Morgan's Wholesale Bait 05/12/19
Mother's Day, and Gary's there to help out. I can't say enough about The Sportsman — what a quality built machine! All 4 of our machines are running great! We ran into a settings issue that I couldn't figure out, and, of course, Gary was right there to help! Morgan's Wholesale Baits, Camden, NY
____________________________________________________
Jeff Pippard of Niagara Outdoors in Tonawanda, NY 05/11/2018
Hello Gary,
just dropping you a line with a big thank you for the great bait machine I purchased back in 2006, this machine has been running like diesel with very little effort and maintenance for over 12 years, your tech support has been priceless to me, Gary you are a true master of these machines and your outstanding customer service has set the bar for others to attempt to reach, you sell a true high efficiency business system.  Cheers to ya!
-Jeff Pippard  Niagara Outdoors
 —————————————————————————————–
J & J Bait John Sagal 05-01-18  My Testimonial for The Live Bait Vending Machine
I recently started out buying one machine to place outside my existing bait shop to serve my customers when I wasn't there.  Little did I now I would be buying two more additional machines in a matter of two weeks.  The vending machine itself is very well built and appealing to the eye.  This is a quality product in every imaginable way.  And to top it off, the customer service is second to none.  Gary has made himself available at a moment's notice.  He is "Johnny on the spot" with phone calls, text messages, and emails. I have sold more minnows out of one of my machines in the first three weeks than I did from my bait shop last month.  I have a vision for many more of these machines in my area and I can't wait to see what the future holds for my business.  Thank you Gary.  Keep up the good work my friend.
John Sagal Maryland
——————————————————————————————
Big Dam Bait Co. April 04, 17
I have had my sportsman machine for nearly a year, and I can't believe how smooth this first year has gone! When I first got it, I was definitely intimidated, but Gary is great with talking you through the setup and making sure you understand your machine. Within a couple days, I had it totally figured out. Anytime I've had any questions, Gary is ALWAYS there to answer calls, texts or emails. He is very knowledgeable with fishing and the marketing of vending machine bait and tackle. My machine has done a great job standing up to the heat of an Iowa summer, and the cold of an Iowa winter. Both Gary and his machines are top notch and I can't recommend them enough.  Scott Stuerman Big Dam Bait Co. Rock Rapids, IA
——————————————————————————————
Oct 3,2014
From: Jeff Nichols-Trailway Trading Post (located in Lake Mineral Wells State Park, Texas)
Gary, Just wanted to send you a quick note concerning our Sportsman vending machine. We've had our machine for approximately 4 years now. It has preformed very well for us with very few problems. We have found the machine easy to work on when necessary, and you have been a great help with any issue we have had. My customers love the machine and the "after hours" availability of bait, tackle, drinks, and snacks.
Thanks for a great product and excellent customer support!
Jeff Nichols
 ————————————————————————————
From: Big Rock Sports dealer Bill Stahlhood Owner of The Sportsman Store, Tullahoma, TN

Gary–
Things are going well…actually better than expected for this time of year in the south…sales will dramatically increase this coming spring, when the crappie guys wanna hit the lake at 3 or 4 in the morning before we are open…crappie minnow sales will be through the roof, I'm sure…we had several requests last year from customers who wished we could set some minnows out in the shed overnight, but you know how that would go over…so when we told them we were getting the machine, they were excited…we've had soooooooo many compliments about the machine, and the fact it says 'The Sportsman" on it…how cool is that!?  Thanks for your continued support and guidance…you have been a big help, and look forward to seeing you again at the next BRS East show in Raleigh.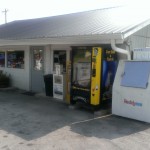 Sincerely,
Bill Stahlhood–Owner
The Sportsman Store
Tullahoma, Tennessee  37388
——————————————————————————————
From: Nicholas Gomez – of Village Tackle Baits & 24 Hour Sportsman Centers 06/14/2013

At Village Tackle Baits – we are the owners and operators of these "Great" vending machines purchased through Gary at Big Rock Sports. I would HIGHLY recommend that you speak with him if you feel that Live Bait and Tackle Vending is a direction of earning income for you. I would like to also point out a few things to think about in venturing into a business such as this one. We have had a positive experience with our business in adding on the Live Bait and Tackle Vending machines to our income stream. Gary has a extensive knowledge in the business from his many years of both being an owner/operator to a consultant. When you purchase a machine through him and Big Rock Sports you are treated as though you are family. If you wish to inquire about additional information on how our machines operate here in Michigan, feel free to use my contact information below. I am more than happy to explain some aspects of how we have learned to work our machines, locations and seasonal fishing in our area. More importantly, it is best said that we have grown to trust Gary in looking to purchase additional machines in the future.
I hope this was of help to you. Again, feel free to contact us if you wish to ask about our experience in the Live Bait and Tackle Vending business. If you wish to purchase, Gary Harsel is the person to speak to.
Have a great weekend and Best Fishes,
Nicholas
Village Tackle Baits
http://www.24hoursportsman.com– 24 Hour Sportsman Centers
—————————————————————————————–
From: Brian Beaver – April 24 2013
Gary;
I enjoyed our conversation
today
and your willingness to help was over the top In
today
's market place.
We run our business in much the same way. A bit of help
today
will go a long way in the future.
I also wish to thank you for the Book. It is very inspiring and has given me some insight as well as the desire to get this ole heap up and running.
If this pans out at all I see a new Sportsman or dare I say 2 in my future.
You will be without a doubt the guy who provides them.
I see this as an entry to get our feet wet and when the ole girl starts to turn a profit I will be quick to reinvest.
Thank you again Sir. You are a rare find in the business world
today
Do not change a thing!
Brian Beaver
Beaver Camper Service
—————————————————————————————–
June 16th 2012 – From Steve Nunley of Donna's  Bait Vending / Paullina, Iowa
Gary
I Just had to send you a big thanks.  The heavy product  plates you sent for my machine was helpful and work great,also the aqua-long was like the greatest thing since peanut butter, I cant believe the difference it made in not only the improvement of the health, but also the extended life of the minnows in the vending machine. Being a new small family business every little bit helps, you are very knowledgeable in what you do. Your booklet will help us grow and maintain, our business. We are in our second year with only one machine, we have doubled our business in this short time . We have secured a second location and looking for another vending machine our problem in expanding is fishing and camping in our area is so seasonal. Thanks again
sincerely
Donna bait vending
Steven Nunley
———————————————————————————————————————
Oct. 07 / Matthew Kurtz: Kurtz's Fish Hatchery and Kurtz Live Bait Vending
Hi Gary!
I just wanted to thank you for all your help with our new bait machines. As you know we had only one machine 3 years ago, of course it was the old style that could only handle that one clumsy sized white cup. Two years ago we decided to upgrade to your newer option, the "Liberty" that can be changed and converted into many opyions and styles. This has allowed us to accommodate not just a variety of cups of bait, but tackle as well. Since we upgraded the only machine we owned 2 years we have logged its progress compared to past sale of the older model. A good week in sales would be $80.00 in this location, since the "Liberty" our slow weeks are still over $100, and between April and October $150-$250 weeks occur regularly. After 1 season of the "Liberty" I was convinced with results and have added 3 more to our collection, now totaling 4. Considering we are in both the wholesale and retail business this is an excellent way for anyone to add extra income to their business and worth the investment. I also found that the few service questions and problems we encountered were ALWAYS answered and corrected the same day or that week. I look forward to adding several more in the next couple of years" Thanks again! Matthew Kurtz, Kurtz's Fish Hatchery – 161 Isabella Road, Elverson, PA 19520
www.kurtzlivebaitvending.com
---
March 22, 2008 Showers Bait and Tackle
Hi Gary
I am so sorry this took so long to write but it has been a very busy winter. I hope you and the family are doing well. As you can see by the address that I am on my own now with all 12 machines. I am very busy getting ready for a big season this year.
I wanted to take the time to thank you for all the help you gave me. For example, the time when I had a machine down, you guided me through it as I was talking to you with my cell phone. Or the time when I bought 2 machines from someone else, you loaned me 2 bill validators to get them up and running. All the used parts you gave me to keep the machines running, all the info and teaching you gave me, the list of supplers and where to get the things we needed. All of this was very valuable to me and my business. All of this is greatly appreciated. I also want to thank you for going out of your way when I needed the 6 machines and you went to New England to get them for me. I just wanted to let others know how good your product works and how valuable you were to the startup of my business.
With much thanks to you Showers Bait and Tackle covers a large part of north central Pa and is looking to grow more . Well Gary, I need to run the season will not wait on me and I have a lot to do .
Thank you,
Paul Showers
Showers Bait and Tackle
---
June 17, 08 A happy customer from Rochester, New York
Thanks to Kurt Specksgoor for a very nice email. And a very big thanks to Rick & Dan of: Jay Ve Fishing Tackle @ 1449 Norton Street, Rochester, NY 14621 Phone # 585-266-0880
Mr. Harsel;
My name is Kurt Specksgoor and I live in Rochester, N.Y. I thank you and your company for such a convenient and outstanding product. I have been an avid fisherman for 40 years and have never seen such lively, fresh and large nightcrawlers as the ones that come out of the local bait box machines. I do however have a request. Is there a way to find out the locations of the other area bait boxes? I appreciate your prompt attention to my request if at all possible…
Thank you again for your time and product.
Kurt Specksgoor
———————–
Hello again Mr. Harsel;
Big kodos for being part of the human race and returning an answer so quickly. It has been my experience that many people who are in charge of such a large area, never take the time to reach out to their customers personally… THANK YOU!. Ofcourse you may use my letter for your testimonial page. I would be honored. As for my request. I usually go to the bait box machine on Long pond road in Greece, N.Y.. I believe their may be one on Culver Rd. in Irondequit, N.Y. (right on the edge of Rochester). Now if their is another one in the Rochester, N.Y. area, I would be interested in knowing where it is. Any and all info is appreciated.
————————-
Thanks again from Pa Live Bait Vending to Jay Ve fishing Tackle for keeping their bait vending machine serviced with the freshest bait in the area. Operator's like this only help to better this business.
---
Aug.28, 08-Daniel Gonzales – From Pop's Vending –
Miami,FL
Ever since 2002 at the opening of Pop's Live Bait Vending, Gary Harsel, Owner of PA Live Bait Vending, has been an excellent support and great help for us. Gary, since the beginning has helped us in every way possible, from answering simple questions on a day to day basis to even flying down to Miami, FL to fully show us exactly how his vending machines should be handled. Gary and his wife, Nancy, personally trained us here at Pop's Live Bait Vending. He showed us how each of our machines work, how to maintain them and how to check for problems and how to run my business more efficiently. His services are excellent in every way and the orders that we place with him always arrive in a timely manner. Gary has a pleasant disposition and a great attitude always ready to help. Any time I need help with any of my machines I know I can always count on Gary. He is always a phone call away. Gary Harsel and the rest of PA Live Bait Vending have truly been a great help and support for us here at Pop's Live Bait Vending.
---
Sept.4,2008 Dennis Redmond of Redmond's Bait & Tackle
"THANK YOU"
Hey Gary,
Just wanted to send you out a big thank you for all the help you have given me this past summer. Any problem I had with my machine, you walked me right through it over the phone. Only now that my store is closed for the season am I realizing the full money making potential my bait machine has. I hope to add another one to the arsenal next year.
Thank You.
Dennis Redmond
Redmond's Bait & Tackle
2050 Buckeye Drive
Sharpsville, Pa 16150
724 962 5646

Follow Us