These are the Vendors offered by LiveBaitVending.com. please click the drop down on the machine that would best serve your needs. Add a new revenue stream to your business. 
The ADA ANGLER,  This model is currently sold out. We order this model by the container load. We can not get more in until the container cost comes down. We will update everyone when this happens.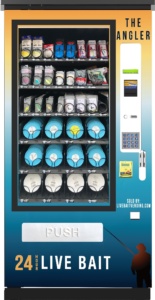 The ADA SPORTSMAN, has been upgraded for 2021. Now under the Evoke series we have added several very nice refinements. The Sportsman is are most popular bait vendor. Please click o the drop down to get more info. This model is backordered until Sept 2022 due to the microprocessor shortage along with many components being unavailable. We will notify the public if there are any changes.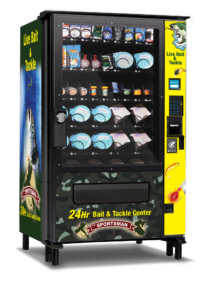 The OUTDOORSMEN, was new for 2018. We have brought the Liberty updated and we added a fresh new graphic. The Liberty was introduced in 2005. It started vending bait & tackle in this type of vendor.  Click on the machine drop down for more info on our new model.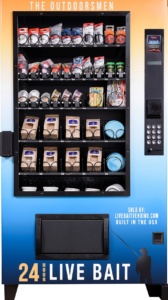 The ADA COASTAL FROZEN BAIT VENDOR, Coming soon. We will be offering this new frozen bait vendor the summer of 2021. This well built and energy efficient vendor will allow customers in the saltwater market to sell their frozen bait 24/7. Check back soon for updated info on this new model.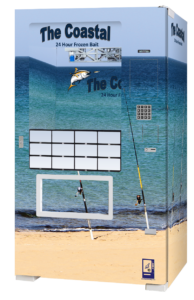 We are the factory direct exclusive distributor for all of these fine vendors. We are proud to offer the finest most well built and securest vendors in this industry, backed with our 23 years of knowledge of this business and our tech support is second to none. We only continue to be successful if our customers are.

Follow Us