The Coastal has finally arrived they are ready to ship!!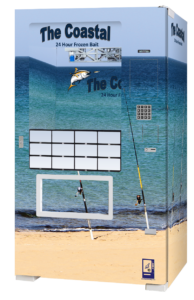 Our ADA Coastal Frozen Bait Vendor has finally arrived at our facility and are ready to ship!! These are truly beautiful machines and are very well built.
The warranty is 5 year limited parts / 2 year freezer.   The limited parts are the "ware" items such as hose, rollers etc. It is the best warranties out there to my knowledge.
They are loaded with very nice features. Each come with in our opinion the most dependable payment system available. They have a Conlux CV1022 bill acceptor and a 5 tube Conlux MCM5-4 Coin Mech, the mech has a dollar coin tube which allows you to accept $20 dollar bills. They are also equipped with the top of the line VPOS Touch credit card reader from Nayax.
Unlike our previous frozen vendor that ran on 220 power the Coastal runs on regular power. Also because all the product is stored in the freezer inside of the machine if there is a power outage the product will stay frozen for over 12 hours. The inside of the freezer can easily be reconfigured to adapt to seasonal product changes.
Check out our YouTube video describing this fine machine >


If your a established business and have been in business for over one year we can provide funding through NewLane Finance. They currently have some nice payment plans running. Contact Devon Passman at 215-260-9700. Also for more info about go to our Finance page and then click NewLane.  Here are two, click either to view > PayNextYear-NewLane Finance
Put this fine vendor to work for you. Give us a call today!!
Follow Us