Welcome to LiveBaitVending.com
Thank you for stopping by our website.  We are the #1 source for bait vending machines in USA and beyond. Being in the field of bait vending since 1997 there's no one more knowledgeable in this business. Please take some time to check out our pages and stop back often to see what new promos we are offering. Let our bait vendors provide a new revenue stream to your new or existing business. We are the exclusive factory direct distributor for bait vending machines manufactured by the  Wittern Group in Des Moines Iowa. We carry the only bait vending machines on the market today engineered from the ground up to be operated outdoors under any condition. New for 2019 we are adding a new machine to our freshwater line. Coming in late June or early July we will be adding our ADA Angler to our line of great bait vendors. We are super excited to be offering this new machine.
We look forward to hearing from you.
In March of 2019 we moved to a new facility in Elverson, PA. This move has helped to expand our business. Our old Morgantown PA address was just a sales office where now we have a sales office along with a refurbish and service area. On July 1st 2019 a space opened up at a location we wanted to move to last year. Although we dreaded moving again, we jumped on the opportunity. We are now all moved to the Big Shot Target factory. Half the building is used by them and the east side of the building has rental units for small businesses. We are in suite #300. We now have a loading dock which is super useful, plus it's only a half mile from home which is a bonus. Our new address is 2836 Creek Road suite #300 Elverson, PA 19520.
In early 2018 we introduced our newest addition to our line of quality bait vendors. We are now offering The Outdoorsmen, this is a updated version of our Liberty which we introduced in 2006. We are happy to be working with Automated Merchandising Systems Inc again. Click on the Outdoorsmen page from the machines page to get more info on this fine vendor.
On May 15th 2017, To better serve our customer we moved to a new sales office. Our new address is PO Box 28 3025 W. Main St. Morgantown, PA 19543.
As of April 1st 2017  Our consulting agreement with Big Rock Sports LLC expired on March 31st 2017. On April 1st 2017 PA Live Bait Vending will once again operate as a private company. We would like to thank Big Rock Sports for the 6 years working with us. We formed some great friendships over these years. This transition will allow us to move into new directions.  On April 1st PA Live Bait Vending will be the "Exclusive distributor for bait vending machines for the Wittern Group's Vending.com and VCI".  This will allow us to offer new factory direct pricing as well as some other new great incentives.  Also PA Live Bait Vending will be operating under the name livebaitvending.com which has been our domain name for over 15 years. The name livebaitvending.com more represents our national sales structure. 
 We are excited to announce our newest entry to the bait vending market, the all new " Frozen Bait Box". This vendor has taken 4 years of engineering to become the only machine of its kind to have a outdoor rating. Introduced at the 2013 Big Rocks East Dealer Show. This vendor will revolutionize the way bait is sold to the fishermen around the world. Please go to the machine page and click each machines page for more info.
We are the country's leading supplier of Live Bait and Tackle vending machines. In this website you will find information on the products and services  LiveBaitVending.com offers relating to the successful operation of a 24 hr Live Bait and Tackle vending business. Whether you are operating a route of machines or would like to place a machine at your current location, we have what you need. Our vendors are built here in the USA supporting American jobs.
If you have any questions, would like to get pricing or if you are interested in starting your own Bait & Tackle Vending Business, we would love to hear from you. Please take time to check out our web pages. Stop back often, as we continue to update our site with new information & products. Live Bait Vending Machines are a great sales tool. Start offering your customers Bait & Tackle 24 hours a day. Please give us a call, we will be more than happy to speak with you about our line of 24 Hour Bait Shops and discuss which machine will be the the best fit to your business.
Our Mission Statement
We strive to give our customers as many choices as possible in the Bait Vending Business. Giving each customer the ability to make a well educated decision based on which products will suite their business needs the best. As technology advances, we promise to keep in step with those advances so we may offer the best possible products available.

PA Live Bait Vending appeared on the History Channels Modern Marvels 11/12/2010
Here is a recent article in the PA Outdoor News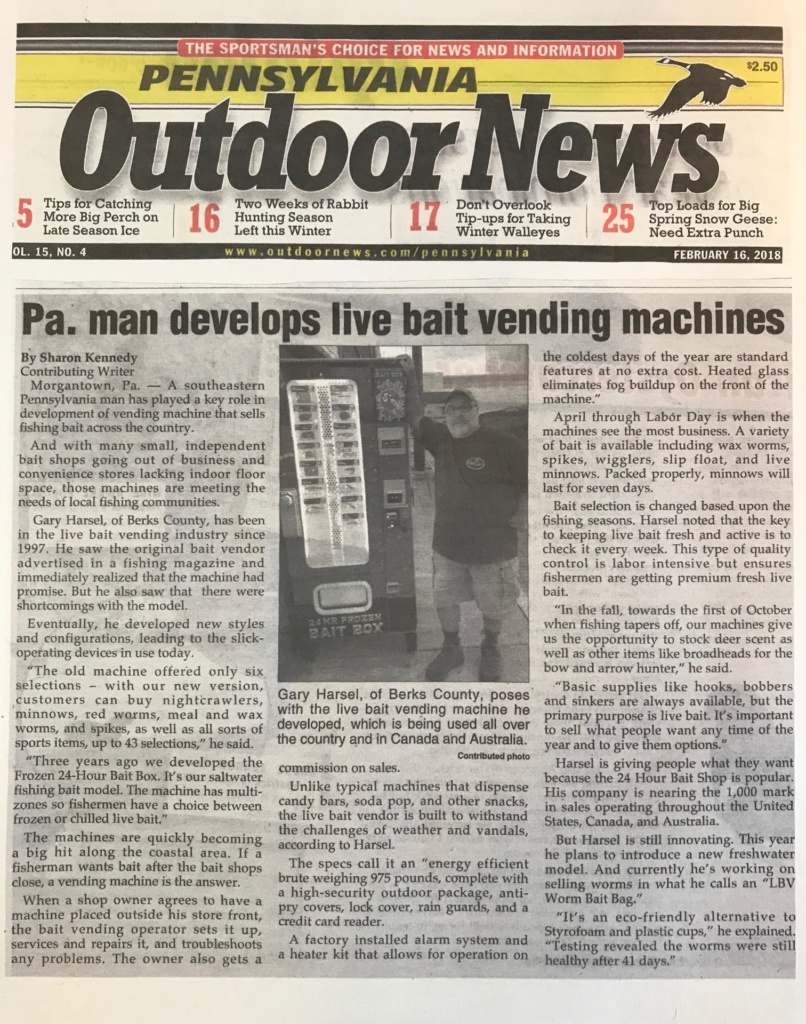 Follow Us