Welcome to LiveBaitVending.com
Thank you for stopping by our website.  We are the #1 source for bait vending machines in USA and beyond. Being in the field of bait vending since 1997 there's no one more knowledgeable in this business. Our tech support & service in this field is second to none. Please take some time to check out our pages and stop back often to see what new promos we are offering. Let our bait vendors provide a new revenue stream to your new or existing business. We are the exclusive factory direct distributor for bait vending machines manufactured by the Wittern Group in Des Moines Iowa. We are also a factory distributor for AMS in Kearneysville WV. We carry the only bait vending machines on the market today engineered from the ground up to be operated outdoors under any condition. New for 2019 we added the ADA Angler to our freshwater bait machine line. The Angler arrived in August 2019 and has already become a big choice for retail stores who don't need the large capacity offered by our Sportsman and Outdoorsmen. The Angler is a little smaller and more affordable, it's a good fit for some of the smaller markets. But still has most of the features offered with the other two machines. It offers some features not offered with the other two such as a rear roof drain that keeps water off the machine and a unique ground fastening plate for optional added security.  We are super excited and proud to be offering this new machine. Please click on our machine page then hit the Angler drop down for more info on this fine machine.
We look forward to hearing from you.
We are the country's leading supplier of Live Bait and Tackle vending machines. In this website you will find information on the products and services  LiveBaitVending.com offers product relating to the successful operation of a 24 hr Live Bait and Tackle vending business. Whether you are operating a route of machines or would like to place a machine at your current location, we have the machine that will best fit your needs.
If you have any questions, would like to get pricing or if you are interested in starting your own Bait & Tackle Vending Business, we would love to hear from you. Please take time to check out our web pages. Stop back often, as we continue to update our site with new information & products. Live Bait Vending Machines are a great sales tool. Start offering your customers Bait & Tackle 24 hours a day. Please give us a call, we will be more than happy to speak with you about our line of 24 Hour Bait Shops and discuss which machine will be the best fit to your business.
Our Mission Statement
We strive to give our customers as many choices as possible in the Bait Vending Business. Giving each customer the ability to make a well educated decision based on which products will fit their business needs the best. As technology advances, we promise to keep in step with those advances so we may offer the best possible products available. We only continue to be successful if are customers are successful.
A video showing our new ADA Angler 1/5/2020
PA Live Bait Vending appeared on the History Channels Modern Marvels 11/12/2010
Here is a recent article in the PA Outdoor News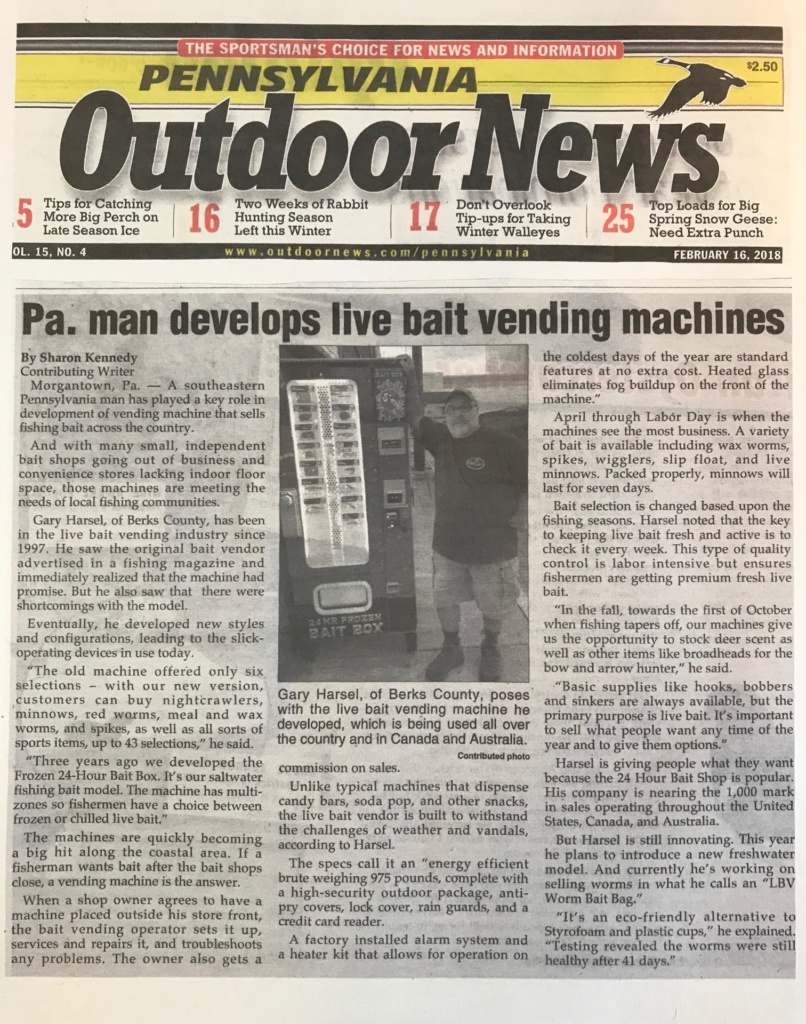 Follow Us