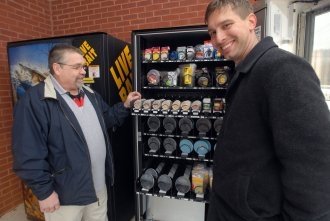 Baiting Anglers
TWO MEN PURSUE THEIR LOVE OF THE LIVE BAIT BUSINESS
By BRIAN McCULLOUGH, Staff Writer
Photo by Amy Dragoo
WEST NANTMEAL — Gary Harsel and Matthew Kurtz are moving to new fishing holes — larger ones for each.
Harsel, one-time owner of his own live tackle shop in Birdsboro, has spent the last decade developing and operating a unique vending business.
Called PA Live Bait Vending, Harsel developed a territory for live bait vending machines in Chester, Montgomery, Delaware, Berks and parts of Lehigh counties.
Last month, he sold that business to Kurtz, who, along with his parents and wife, run the 100-acre Kurtz Fish Hatchery in Elverson started by his grandfather.
The sale gives both the opportunity to pursue new markets within an industry they love.
"This gives me more time for my passion, research and development of these machines," Harsel said.
"This has been a family passion since I was a little kid," Kurtz echoed. "With the mom-and-pop bait shops declining, these machines present a great opportunity."
Kurtz bought 20 machines from Harsel, adding to the four he already operated.
Kurtz had already supplied Harsel with the bait for the machines from the fish farm, which itself is celebrating 50 years in business.
"In essence, I become a customer to the family hatchery," he noted.
Fueling the optimism for the new arrangement is the improved technology in the machines.
The original machines Harsel stocked could vend six types of bait. Several years ago, he developed the Liberty 24 Hour Bait Shop that can hold 24 varieties that is now sold across the U.S. and is moving toward worldwide distribution.
"We have plans for a second model (called the Atlantic) due out in late spring or early summer for the salt water market," he said. "I've gotten inquiries from Spain, the Czech Republic and two from Australia."
Locally, the company's machines are in West Chester, Coatesville, Downingtown, Honey Brook, Pottstown and Boothwyn.
They are located at car washes, archery shops, hardware stores, convenience stores and bait shops.
The one in Boothwyn is in front of a Wal-Mart.
"We need these in our area because the bait and tackle shops are closing up," Harsel said.
Nationally, the machines can be found as far away as Albuquerque, N.M., and Salt Lake City, Utah.
"I'm into sales," Harsel said. "When you make your money on a product you know is reliable, it's a pleasure."
The improved reliability was a big reason Kurtz was comfortable expanding his presence in the live bait vending arena.
"They've come a long way," he said. "There's no kicking the machines. You can see exactly what you're buying.
"The machines keep the bait at a constant 45-degree temperature, optimum for the wide variety of baits involved, Kurtz said. During heavy fishing season, the machines are stocked every week. During the slower months, they are serviced once every two weeks or so Harsel, and now Kurtz, pay the owners of the businesses where the machines are located to have them there and/or a commission for the product sold."They need to be in a high-traffic area or it doesn't work," Harsel said.
They further benefit retailers by attracting anglers to their stores for coffee, drinks and food, the machine operators said.Kurtz said a second market seems to be opening up for the machines: pet food vending.
Residents appear to be buying the bait for their lizards, geckos and turtles.
"I've been amazed at how busy they've been during this time — and apparently that's what's been going on," Kurtz said.
Follow Us