Here is what John wrote: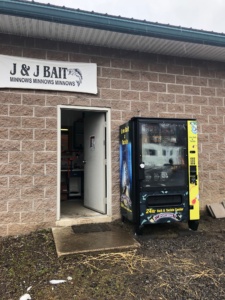 My Testimonial for The Live Bait Vending Machine
 I recently started out buying one machine to place outside my existing bait shop to serve my customers when I wasn't there.  Little did I now I would be buying two more additional machines in a matter of two weeks.  The vending machine itself is very well built and appealing to the eye.  This is a quality product in every imaginable way.  And to top it off, the customer service is second to none.  Gary has made himself available at a moment's notice.  He is "Johnny on the spot" with phone calls, text messages, and emails. I have sold more minnows out of one of my machines in the first three weeks than I did from my bait shop last month.  I have a vision for many more of these machines in my area and I can't wait to see what the future holds for my business.  Thank you Gary.  Keep up the good work my friend.
Follow Us